Just bought a 1950 Liner... And number 2. Are we crazy?
---
Last Friday, I made the 2 hour trip to Nelson County VA where I grew up to visit my parents. I thought I might drop by and visit Dave at Trailer Buff since it is only 5 minutes up the road. Found out Dave is retired from the Airstream restoration business but he did have 3 Airstreams, unrestored he was selling. I took a few pictures and headed home.
Today, we went back out, bought a 1950 22' Liner (real rough shape but worth saving). Dave was gracious and gave us a tour of his shop and gems he had which was a real treat. What a great guy.
We planned to tow the Liner the 5 miles to my parents but we couldn't get the hitch free from seize. At this point, we figured we would have to come back in a few weeks once we had a trailer to get her home. My father suggested a local auto shop that had a car hauler. Less than an hour later, we were loaded up and heading home outside Richmond. So we now have a 1979 31' Sov sitting on one side of the driveway and the Liner on the other side.
Are we crazy? At what point is this considered obsessive
.
Picture of the transport home: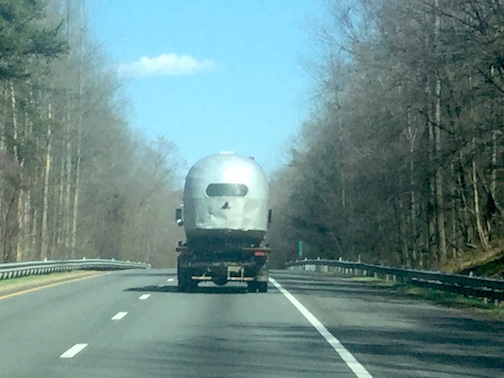 Comments
Posted 04-06-2015 at 10:47 PM by

drboyd

Posted 10-02-2015 at 09:05 PM by

Bowmans