Quote:
Originally Posted by
PA BAMBI II
Yes, we love our Corvair van and truck and how useful and unique they are.



The '62 Greenbrier was our first camper and took us on some amazing trips!


Nader was wrong and if you remember, the Corvair was not mentioned much or at all after chapter 1. By then, every reader had fallen fast asleep...because chapter one and the Corvair are the only things anyone seems to remember about the entire book.


The Greenbrier has 642,000 miles on it. I am betting neither my Town & Country nor my Pathfinder will get anywhere close to that. Like vintage Airstreams, Corvairs were built to last, not throw away.
Cool Ben!
Our Greenbriar was the passenger van with 3 rows of bench seats - not the camper conversion you have, which are really nice. There is a couple out here in CA with the camper conversion who come to the vintage trailer rallies, & we usually visit with each other.
Our Greenbriar was the same blue/white color scheme as your gorgeous truck. We camped out of it with a big old 3 room Sears tent, or with all 6 young kids & parents sleeping on the bench seats, floors, rear engine area & on an old army stretcher laid across the 3 benches at night, & folded against the sidewall during travel. We were all small then, & I was the oldest at 10 on the first XC trip to San Diego in summer
1963
.
We only had 2 kids, but continued the family XC trip tradition to visit family back east with our 1988 VW Westfalia that we bought new & still have & use. In 2018 we found a nice mostly original 1970 Eriba Puck Trailer to pull behind the Westy for Vintage Trailer Rallies (the Westy is considered too new at most) - as an alternative to our bigger
1960
Avion T20.
The Puck has about the same camp set-up as the Westy - so it's "Repetitively Redundant"!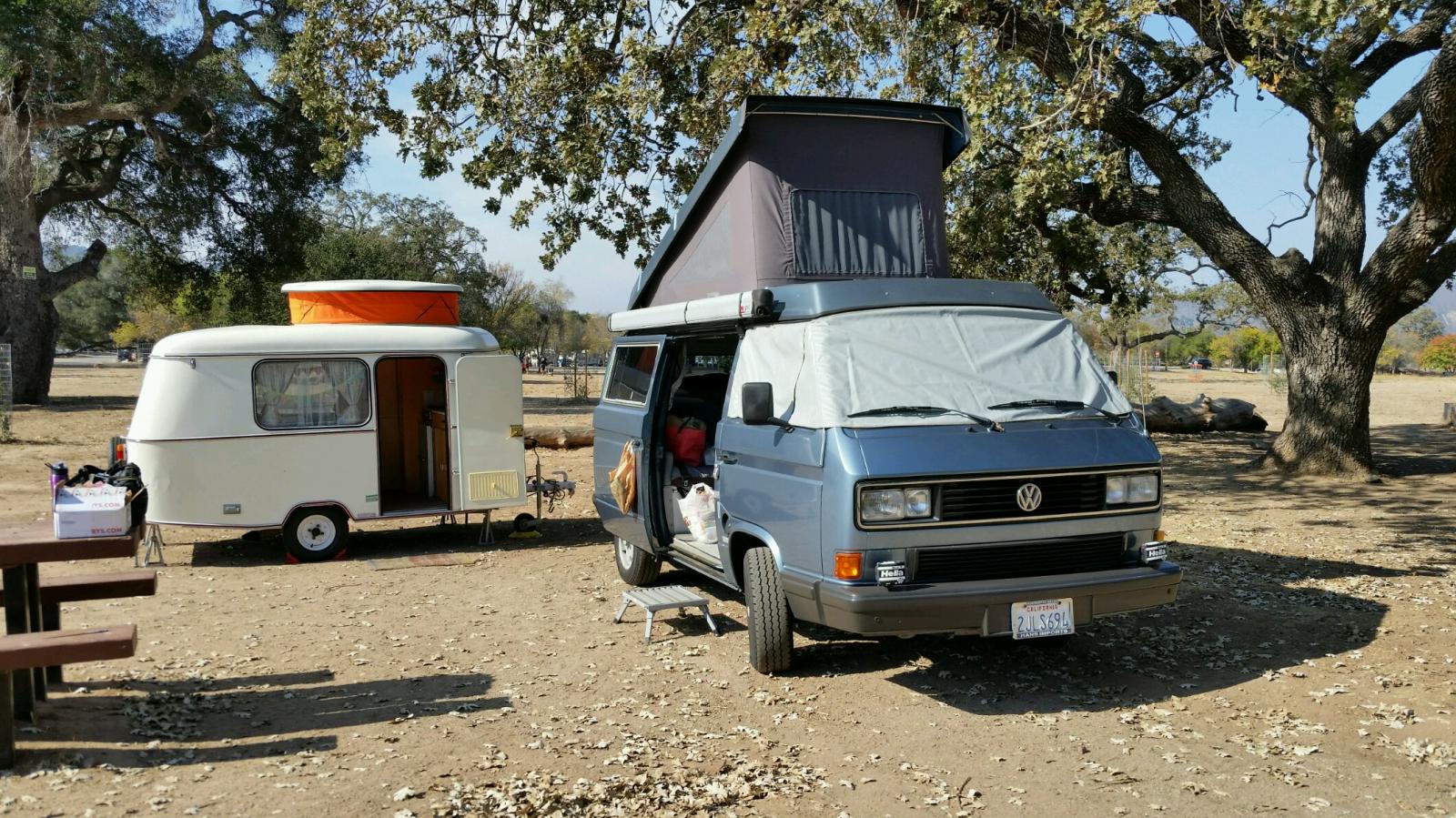 > No the Westy can't tow the Avion - both Avion T20 & Westy are at a close-by Rally in Newport Beach (10 miles) when wife follows in Westy, & I tow the Avion with an Enterprise Truck Rental 3/4 ton truck.
Happy Camping!
Tom
///////