We started out with our Beetle and pulled this around for about 4 years.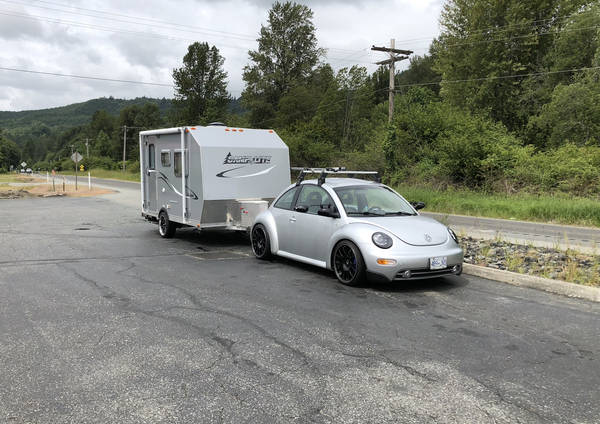 We did a lot of work to the car to make it stop and also to make it go. Our little Camplite served us well at only 2,200 GVW with a dry weight of 1,620 lbs.
We played with the idea of pulling a Bambi 16 with the car but the little Bambi was nearly twice the dry weight of the Camplite.
The Camplite has been replaced with a 2019 Sport 22FB and the Beetle has been replaced with a 2019 Ridgeline AWD. We really like the way the RL pulls the Sport up and down the hills in our province.
I am looking forward to may years of use with our new setup.
I know Canamrv does a great job with their hitch configurations and are worth a look if a Subaru or Jetta is your choice for tow vehicle.
Please make sure that you don't go overboard with the capabilities of your tow vehicle. Just consider how your combo will stop from 60 mph going down a 10% grade!