Greetings Perry!
My preference for brake controllers follows a different direction from most. Back in 1982, I had a terrible experience with sway that ended up placing my trailer (1980 Nomad -- 17.5') and tow vehicle (1982 Pontiac Bonneville) into a 180 degree skid. I was very fortunate that both vehicles remained upright and all traffic in both directions (2-lane state highway) was able to stop safely.
I learned several important lessons from that experience, with what I consider the most important to be that a brake controller that you
cannot
reach without leaning forward isn't going to be of much good in an emergency. My Bonneville's controller was mounted at the lower edge of the dash, but it required leaning forward to be able to activate the manual control. When I reached for the controller when the sway was first felt (I was increasing accelerator pressure at the same time), I must have pulled on the steering wheel as I reached for the manual control as the sway increased dramatically.
I now insist that my brake controller have a remote control that I can easily reach while seated without having to lean forward or anything of that nature. I have only been able to find one manufacturer who offers such a controller, and that is
Hayes Lemmerz.
I have utilized the Hayes Lemmerz Brake controller for more than 10 years now and am totally satisfied with its ease of operation and safety margin. I have the Hayes Lemmerz controllers in two of my three tow vehicles, and they are the
Energize XPC with optional manual remote control
.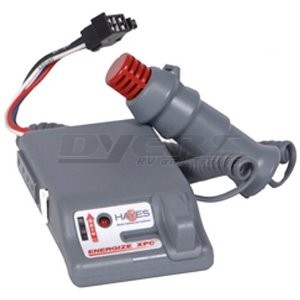 The photo above shows the control with the optional remote. The remote has a coiled wire that allows you to place it where you can easily activate the trailer brakes without reaching. The company that manufactures these controllers has gone through bankruptcy, but I have never experienced any kind of trouble with warranty or product support questions.
Good luck with your research and investigation!
Kevin