Quote:
Originally Posted by
cnsilver
Hi my husband and I are about to take the (I believe) the original AC unit out. Hubby wants to have the old unit bench tested but it is awfully cruddy looking. also the interior and exterior shroud look in sorry shape. Is there anywhere to get a slightly used unit to replace a 40 yr old unit?
cnsilver,
Jammer is right, there is a fair amount of work that will go into replacing the AC and bench testing way to much. There is nothing that can't be done up there that could be acomplished on the bench. Some parts are available but it runs into alot. Figuring out the part, finding the part etc. Putting a used unit up there is also not a good idea. It is alot of work and if you have problems your stuck.
Also, your going to want to put a Dometic AC up there. There are two drain kits made(one by Airstream and one by Dometic) that allows you to use the drain line that is in your wall. The drain line keeps the water from running down the side of the unit.
The modifications Jammer was talking about is your going to have to put wood between the outer skin and the iner skin. Then you will have lots of holes on top to seal. These are holes that were put in the top when the Armstrong was installed.
Here is a picture of what that wood looks like......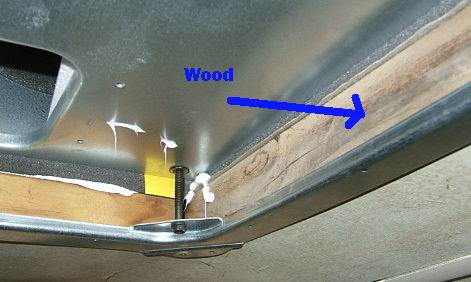 It is a pretty fair amount of work. Most dealerships don't know how to do it.
You may can get the AC from a local dealership as that won't cost you freight. Then you can get the drain pan from Inlandrv or Out-of-Doors mart.
I hope this helps
Dan