Scott,
Rear End Sag is not really a problem of the frame. It has to do with the rear of the trailer leaking in rain water and rotting the wood. The wood then gives way. The wood was the component that held the frame to the hull. The hull, body, fuselage (whatever you want to call it) has a lot of strength. If the frame were NOT to be reattached then it might bend, but hopefully yours is not in that state.
There are a few ways to do this.
1) You could take stuff out of the rear room of your unit and reattach the frame.
2) Take the whole body off the frame and redo the whole floor, or
3) Cut holes in the rear lower body panels and reattach the body to the frame.
The first one is the best if you can get to the inside lower wall without much trouble but if you have a rear bath, forget that. The last one, #3, is the cheapest way to go. Below is a picture of what your unit may look like if repaired this way.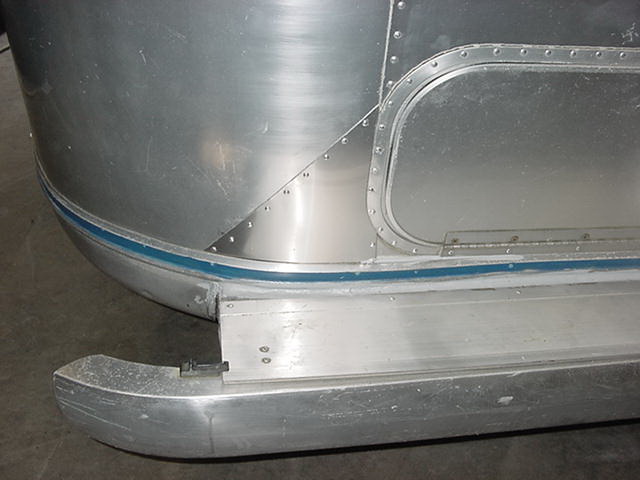 You start with a hole saw and cut a small hole so you can get in there with some snips. Then you cut a triangle shape hole on both sides (left and right) so that you can use a large bolt and run it through lower frame and the u-channel that is on the bottom of the body. Some type of metal will be needed on the top part of the u-channel, like a washer on a bolt.
You then order a small piece of metal from an Airstream dealer to put back over the hole. You will need to rivet and seal the metal. The rivets will need to be dressed and the rivet dresser can be rented from Out-of-Doors Mart. No need to buy a tool you only need one time.
I would seal the metal on metal with aluminum Parbond and the lower rear deck to the body with TremPro Polyurethane Sealant 360002. You can see that this unit has been done this way and the color blends very nicely.
I hope this helps
Dan