Hopefully I have quoted everybody who showed interest in this bike ride. I am new so hopefully this is not stepping on any toes.
https://bikekatytrail.com/katy-trail-map.aspx
We need to pick a date for this. Can someone throw some potential dates out? My wife and I will make pretty much any date work.
I vote that we do this at Beyond the Trail RV park, unless someone has experience at another one. It does look like we have some great options to choose from though.
Beyond the Trail RV Park

2880 S Hwy 94
Defiance, MO 63341
636-484-0059
https://www.beyondthetrailrvpark.com/rentals
Beyond the Trail RV Park offers many sought after amenities to help make your stay with us more enjoyable. We have regular and pull through RV sites with electricity, water and sewer, as well as tent camping options. Our campground is well lit and offers pet friendly walking areas, trash facilities and bathrooms/showers.
Hermann City Park
118 W. 13th St.
Hermann, MO
573-486-5400
http://hermannmo.com/campground/
The city park campground has 43 sites with full hookups (water, electric and sewer) and 8 sites with electric hookups. Tent camping also is available on a first come first serve basis.
Cooper's Landing
11505 Smith Hatchery Rd
Columbia, MO
573-657-1299
Tent and RV Camping along the trail. Live music, food, and fun!
Farrington City Park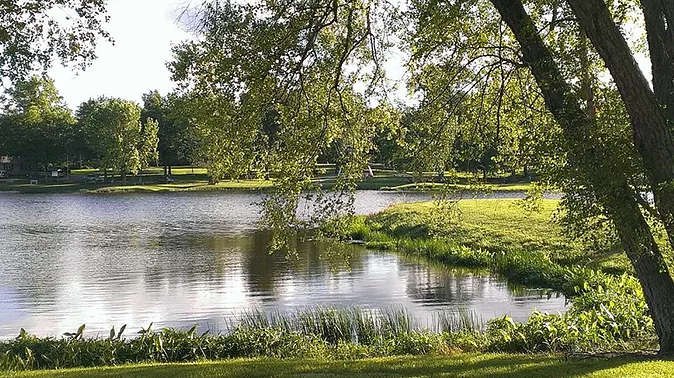 116 S County Line Rd
Windsor, MO 65360
https://www.farringtonpark.org/
In late 1903, the Rock Island railroad was building grade and laying tracks headed for Windsor from the east side of the state and on to Kansas City. By late March of 1904, it was reported that the work on the big reservoir east of Windsor would be completed in a few days. Within a month's time, Ed Willoughby had met with General Superintendent W. E. Morse of the Rock Island railroad and he consented to allow the town citizens to take charge of the grounds and reservoir for the purpose of converting them into a first-class pleasure resort. The railroad only needed use of the lake to supply water for their stream locomotives. Windsor became the proud owner of its City Park and Lake on July 25,
1954
. On this date, J.W. Barriger, Vice President of the Rock Island Lines, officially turned the park over to the city in a ceremony held at the park. The park was officially named "Farrington Park", honoring J. D. Farrington, the Rock Island President.
Fast forward to today. Farrington Park, often referred to as the "Crown Jewel of Windsor", is used for many of the City's festivities, including the Fourth of July celebration, a lighted Christmas display, family reunions, weddings, and many other occasions. The Katy Trail is a short distance from the park and the new Rock Island Spur of the Katy Trail runs adjacent to the park.