My old regulator on the 84 Excella looked like this:
When mounted it looked like this:
I purchased a new regulator from the propane dealer.
It looks like this:
The old regulator was on 2" center at the holes and 3" nipple to nipple.
The new regulator is 3.5" centered on the holes and 4.5" nipple to nipple.
The new regulator will not mount on the existing bracket and allow the tanks to be placed in their hoops. And of course the Aluminum tank cover won't go over the bottles because they can't sit in the hoops.
So, the conundrum is: How do I mount the regulator so the tanks sit in their hoops, and I can continue to use the Airstream Tank Cover?
The tank cover has the domed lid like this one.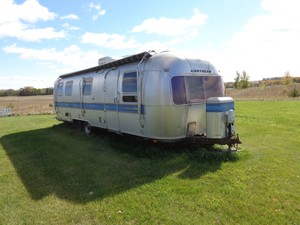 I would be interested in solutions others have used to solve this problem.
Thanks!