Quote:
Originally Posted by
JosieNurse
I am thinking about the possibility of having security cameras to show activity outside my 2017 Airstream Interstate. Would hope to have something small that had solar charging or at least a long battery life that would send info to my phone.
Any suggestions ?
Expounding on the reply above --
1. For what purpose(s)? Storage, on-the-road, or both?
2. Are you chiefly concerned with theft, or the safety of your person?
3. Do you want gross warnings only (e.g., "someone is near"), or detail sufficient to identify people? This makes a big difference because it's dictated by camera resolution.
4. With or without recording capability?
5. How much does price matter to you?
6. Do you have technical skills, or would you require a turnkey system?
All these questions are necessary for perspective because the market is woefully underdeveloped in this area. There are systems that can be kluged together to render some degree of information for specific concerns. But there is no easy answer, or cheap answer.
A few historical threads on this topic:
Vehicle Security - What have you done?
Comprehensive DVR and security camera system
Security while boondocking
(Class B Forum)
Here is an example of a context-specific solution. We have used a Verizon hot spot coupled with a Canary camera to keep an eye on our dog while she was alone in our Interstate. The video feeds back to my phone, assuming I'm in an area with cell coverage.
This type of solution is entry-level, costing about $75 for the Canary and $50/month for the hotspot, plus this installation required running another branch of DC power for the Canary. Obviously this shows the vehicle interior only, and at poor resolution. Prices rise astronomically from this type of installation.
Here's a screengrab from that Canary (red arrow points at dog):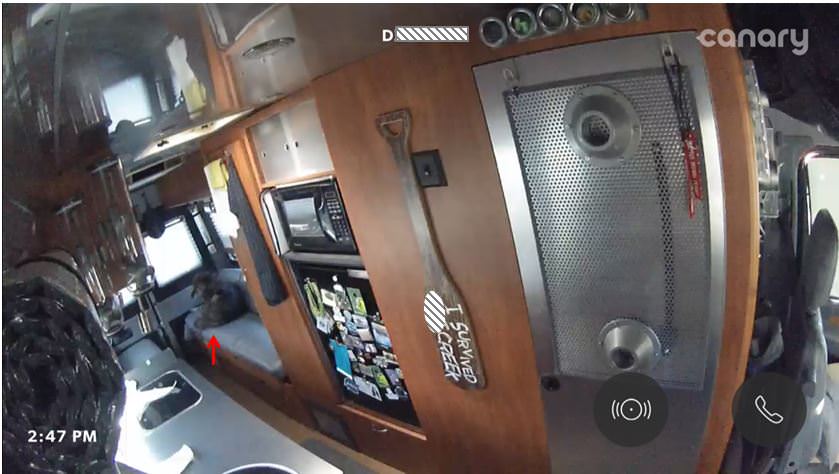 At the other end of the investment spectrum, here is a pic showing a comprehensive multi-camera DVR security system installed in a vehicle that sells for around a half-million dollars. I have not managed to engineer a comparable system to date (it would take a lot of money and time to design and implement):