I thought it would be a good idea and explain the LED kit we have for the 4.25 by 4.25 Stop Tail and Turn, because I have been asked so many questions about it. This light kit will work in two different style lights. We call it a 4.25 by 4.25 because the lens measures 4.25 by 4.25 inches. If your tail lights look like the below pictured lights it will work in your unit. Pictured below.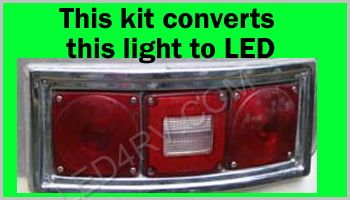 The MAIN reason we came up with this light is safety. Most of the people who have contacted us about a light for the STT on their unit donít care anything about LED lights; they just want something much brighter than what they have. As some of these Airstream units get older the wire connections and contacts get weaker and the incandescent bulbs just donít put out that much light. When we first started looking into a fix for this problem we looked into a cluster bulb. A cluster bulb is a cluster of many smaller lights and a incandescent has one point of light. The light lens is designed to get light from one single point and refract out the back. With a cluster bulb you DONíT get the same light out-put. Even if you had a brighter LED cluster bulb you would get less light out-put. This is why we directed our focus to a pad. We looked for a company to make a potted circuit board. The tooling (setup) was way too much and no company we found was willing to take the chance on the investment.
Our fix is 4 red pads with 1157 (BAY15D) sockets and 2 Bright white pads with 1156 (BA15S).
We have many folks asking questions about how well these lights hold up etc, etc. Below is a picture of a light Airstream uses in their 2006 Classic. It is not so far from the design of our light pad.
We suggest that you glue these pads to the lens to get the most light out-put. The glue we recommend will not melt the lens or the LEDs. The LEDs have space between themselves and the pad to allow air flow.
We have a step wise procedure for installing these light pads to make sure they will work for you. The first thing you want to do is hook your tow vehicle to you trailer. For grounding purposes the trailer needs to be on the ball, not just plugged in. Then take your lens covers off. Plug all 6 pads into their prospective places.
Get someone to sit in the cab of the truck and turn on the running lights. You should see all 4 red pads come on. Then turn on the right turn and then the left turn. Then push the brake peddle, with running lights on, and then a turn signal. Then test the other turn signal. Last but not least try the back up lights.
There is a good reason we want you to go through all this testing before you glue the pads onto the lens. If they donít work for you can return them. The only reason they will not work is a bad ground. A bad ground will allow your present lights to work but not LEDs. The LEDs have to have the current going in the right direction to work, where-as the incandescent light can back feed into another circuit and still work. You may be surprised at how many Airstream have this problem.
If you find that you have a bad ground and want to fix it then the lights will work, but we suggest you get them working before you glue them to the lens.
You will want to use mild soap and water to clean the lens. Once they are dry you will put a small amount of glue on all 4 corner LEDs. Then place the LED onto the lens making sure it is straight. The glue drys clear and takes 15 minutes to set, but I would allow an hour before installing them. I would use a small amount of clear silicon between the lens and the light housing. The rubber seal goes between the light housing and the trailer.
We have had many people purchase this kit because they found out at night they did not have enough light by other night travelers. One guy claimed be almost got creamed by a large transfer truck.
The glue we suggest to use is sold at Wal-Mart and some folks only get the 4 red pads as their Back-up lights are not even hooked up.
I feel very confident that this is a very good product and are proud to offer it for its safety value.
LED-kit1