Greetings skgru70!
Quote:
Originally Posted by
skgru70
Whenever I hook up fresh water supply it drips from the rear pan area and a small hole at the side of the waste tank. I have the tank hooked to a portable grey tank and its draining to It but I've got a leak somewhere antone have an idea or plumbing diagrams. I have to shut water on and off to use
The most common issue that causes a drip or slow trickle (in worse case scenario a constant stream), is a pressure control/relief valve that is frozen open or partially open (often a piece of grit, sediment, or lime deposits will lodge and hold this valve open). The valve looks something like a mushroom with a small adjusting screw on the top . . . it was designed such that it could be adjusted to set the maximum water pressue allowed into your trailer. It is typically just inside the rear of your trailer about 8 to 15 inches from the actual hose connection point. These valves are typically available from the big box stores in the plumbing department . . . a plumbing supply house will likely have a modern duplicate for your existing valve.
The photo below illustrates a valve very similar to what was likely on your Airstream when it was delivered new.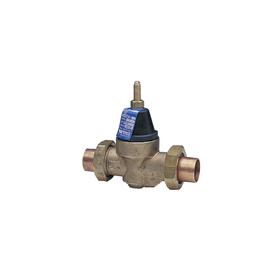 Good luck with your project!
Kevin
P.S.: When this valve fails it is also possible for water to flow out of the hose connection when you are using water from your fresh water tank . . . at least this is true for the 1960s era coaches . . . there may be a check valve to prevent this in your 1970s era coach.