I bought my 1976 31" Sovereign International on June 24, 2010 about two miles from my home.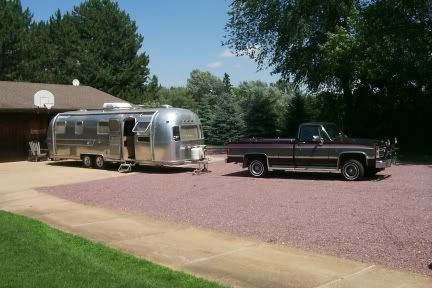 It's going to be a work in progress. I'll uncover, discover, and recover. It has some old leaks. I suspect the TV antenna and the skylights. I believe the leakage is minimal but I'll see.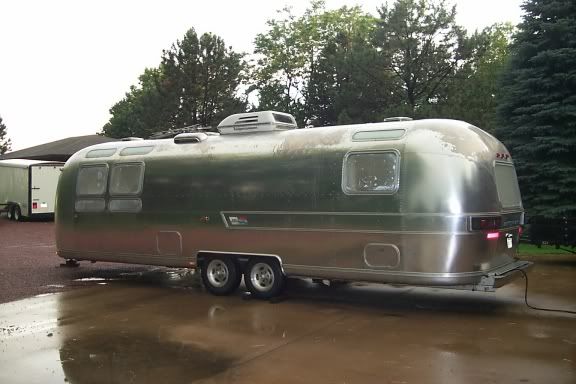 We began by removing the living area builtins.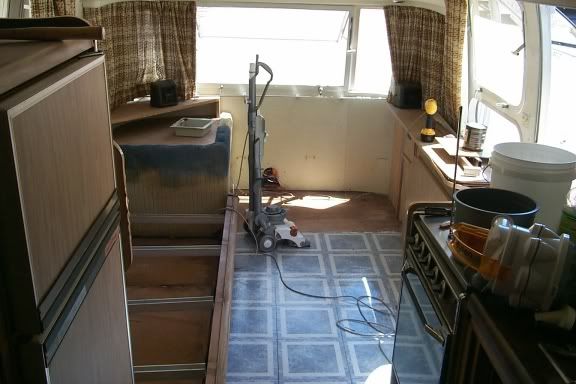 sofa out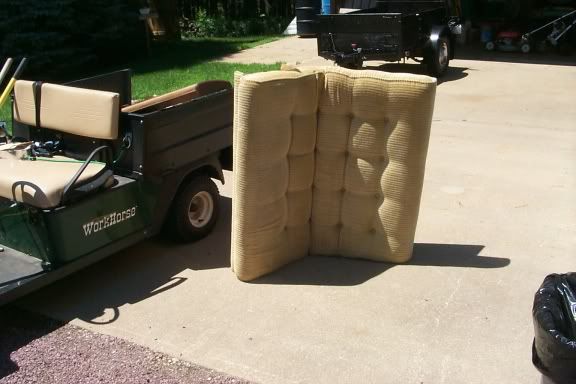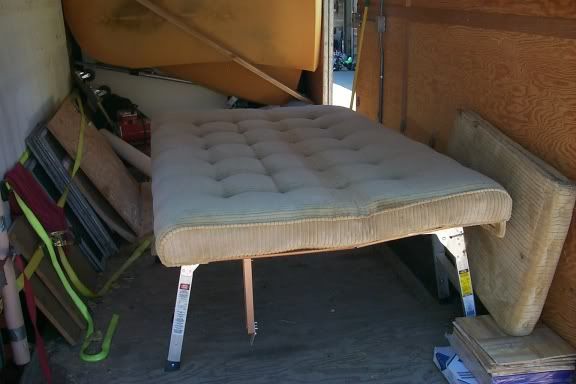 Both sofas out along with the mickey mouse corner table and the finger pinch table.
Before removing the rotted floor sections under the window and by the door, I'll remove those nice blue floor tiles.
They appear to be original because the floor is like new under the tiles and the tiles go under the builtins. They come up like they were never glued with a heat gun.
The whole tile comes up in one piece. Unfortunately the glue stays down and stays sticky. Some comes up with Krud Kutter.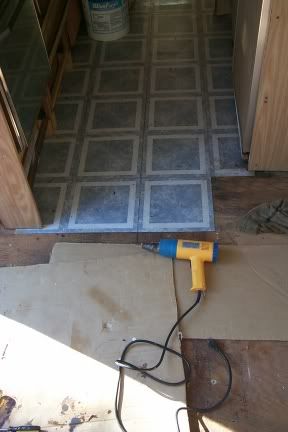 I removed the drapes. The end caps come off and there's a screw in the bottom track to remove and the drapes just run out the end.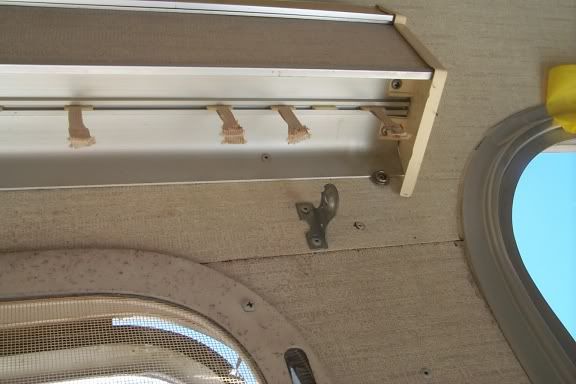 Dent repair using load jacks
---
Today I removed the inside end cap to expose the rear panel dent that came with the trailer. It wasn't near as bad of a job as I had imagined. I got it down by myself with no problems.
I'll take advantage of the opportunity to reseal the inside seams and rivets that I've exposed.
Below, the dent is visible.
I have had the good fortune to have a truck company owner for a neighbor for over 20 years. He's gone now and his widow sold me a few of the load stabilizer jacks stored in the shop. Those have come in handy binding loads in my freight trailer and in this Airstream project. I used one jack to lift the old air conditioner out of it's hole and now I am using two jacks to push a basketball sized tree fall dent out of one end panel.
There was a shadow of a seam that I rolled out with a laminator's end cap roller. It worked pretty well. The roller had a radius side that allowed my rolling to stay soft on the edge.
The original view of the dent . . .
The dent pushed out with the jacks. I'm gonna leave those jacks under pressure a few days.
I'm pretty happy with the way it pushed out. A casual observer wouldn't ever know there was a dent there. I decided I'd better get this done before I move on to finishing off the interior.
Comments
Posted 10-21-2011 at 08:43 AM by

IndyAnne