update, a little more work done
---
Well we got the new floor in the bathroom. it's a 2 ft section that we had to replace. We went with regular plywood (for floors) We painted it with por 15 to give it some more protection.
Getting it in was not an easy job. We realized it was either try to get it in in one piece by removing the belly skin and getting the skin up high enough to slide it in like some full monti's have done here. or cut in 2 and have a seem somewhere. After starting to remove the belly skin to the right of the water heater opening we did not get far and realized this was a much harder job than we could do. So I started to re rivet it back on and the sky opened up and I was poured on.
So days later when the rain had cleared we cut the wood in 2 much like you would lay drywall seems centered on the stud. We made the small section over under the tub and the larger part where the toilet will be. after fitting and re fitting we got it in. ugh- a bit sloppy it was harder than we thought. But it's in and it's sturdy. I will also add that when the floor was out we could really see where rain was coming in. On the bumper where that door flap meets the outer skin water was coming in like crazy. We used Vulkem and sealed out water before putting in new floor.
We also fixed the access door in the back where the PO put a sewer pipe. A patch was made from some aluminum and riveted on the front and a patch was put on the back and we used a friend's brake to bend to the 90 angle we needed. (no photo yet) I will edit later
Today we fixed the ball and sockets on the reading lights. I read on here and got some help finding the thread with the how to, and we did it. they look great. took the lights apart, used a clamp( we have no vise) to hold the ball in the socket and then vise grips to crimp the socket, then turned 90 degrees again and crimp again. They don't turn like new but it's better than having to buy new ones- money is tight!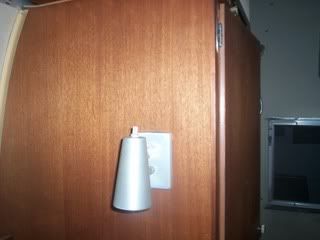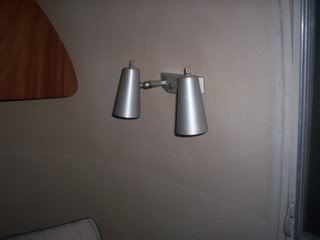 Comments
Posted 01-04-2009 at 07:29 PM by

danalee