started restoration
---
We have started our restoration (we are doing our best).So far we have removed the bathroom floor. The back 2 ft section. We removed the household toilet that the PO installed. We removed the tub and sink (to make repairs and paint). Getting the univolt out was a very tricky job as was removing the water heater. I think we will update both. We also need to get a battery, there was none in it.
here is how My husband got the univolt out using our camera to zoom in, so he could find the screws bolting it down.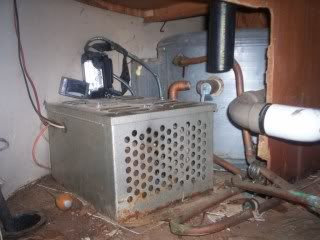 when we took out the water heater we had to cut the bottom of the cabinet off equal with how it was on the side of the toilet encloser.
here is the bondo repair to fiberglass tub I did, we will be painting with tough as tile.
and we are repairing sink with epoxy it had/has a large crack on both sides of drain.
Comments