I bought my 1976 31" Sovereign International on June 24, 2010 about two miles from my home.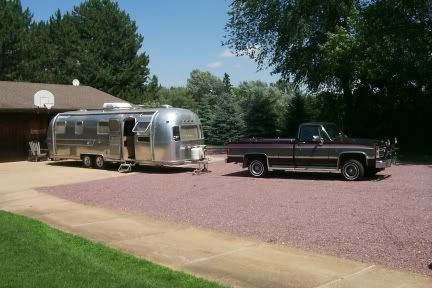 It's going to be a work in progress. I'll uncover, discover, and recover. It has some old leaks. I suspect the TV antenna and the skylights. I believe the leakage is minimal but I'll see.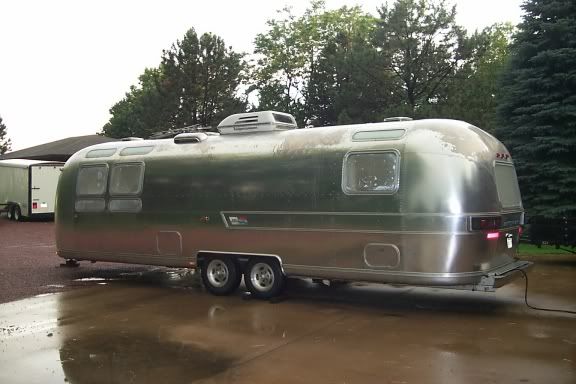 We began by removing the living area builtins.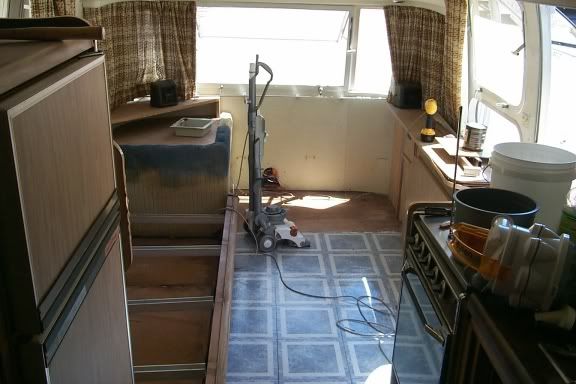 sofa out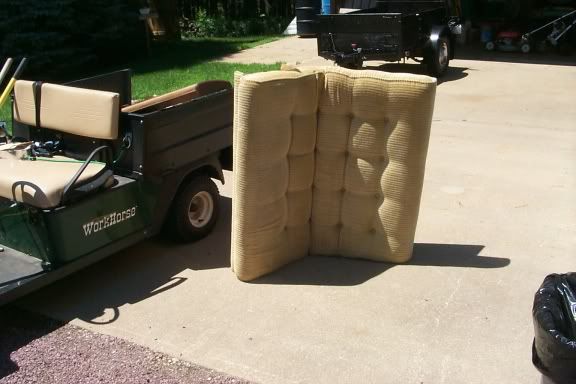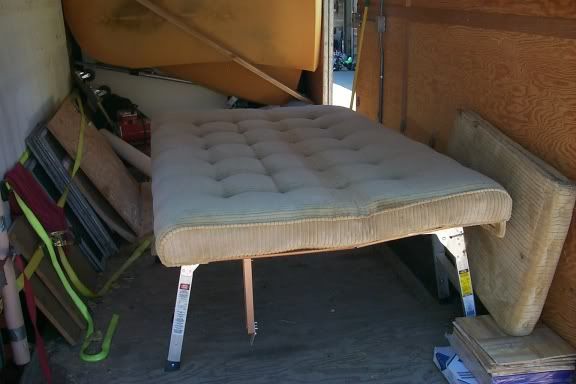 Both sofas out along with the mickey mouse corner table and the finger pinch table.
Before removing the rotted floor sections under the window and by the door, I'll remove those nice blue floor tiles.
They appear to be original because the floor is like new under the tiles and the tiles go under the builtins. They come up like they were never glued with a heat gun.
The whole tile comes up in one piece. Unfortunately the glue stays down and stays sticky. Some comes up with Krud Kutter.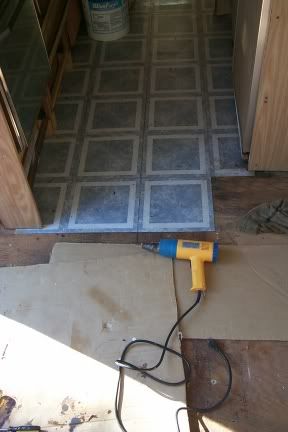 I removed the drapes. The end caps come off and there's a screw in the bottom track to remove and the drapes just run out the end.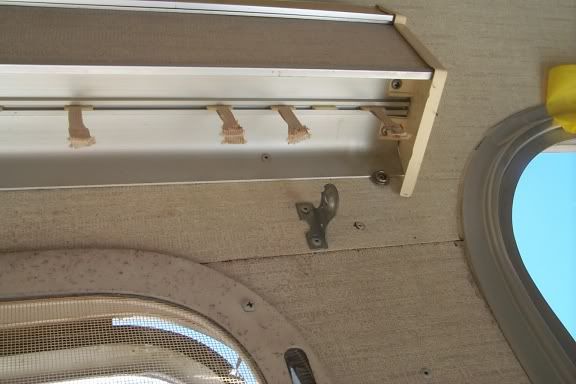 Posted 05-29-2014 at 06:32 PM by

Splitrock

(1976 31' Sovereign)

Updated 07-05-2014 at 08:21 PM by

Splitrock

---

I'm pretty well disappointed in the Fantastic fans. I wouldn't use them again. I installed 3 in 2010. I installed them using the supplied gasket and sealed them with premium silicone as directed. The rear fan base cracked at the mounting screw location the second winter. By 2012 two were leaking at the cracked bases. I removed the silicone and sealed the bases with Vulkem. 2013 none leaked. This spring all three were leaking.

I investigated and the Vulkem was tight but the bases were...

Rivet Master

Views

1795

Comments

0
Posted 09-01-2012 at 02:27 PM by

Splitrock

(1976 31' Sovereign)

Updated 09-28-2012 at 12:15 PM by

Splitrock

---

AWNING FABRIC REPLACEMENT

The replacement awning material is on and the awning is back on. The job took two strong helpers and took 3 1/2 hours, start to finish.

The awning is a Carefree of Colorado. Dealer installed on 1976 31' center bath Airstream. The arms are 21' on center. The material length is about 20' 2". The pull out length of the material total is about 8'. The length from the extended roller to the trailer rail is about 93". Both the roller welt...

Rivet Master

Views

6353

Comments

1
Posted 07-02-2012 at 08:26 AM by

Splitrock

(1976 31' Sovereign)

---

I washed the trailer with the power washer and tried Removal stripper. It was s l o w and required multiple applications. Not for me. I even tried letting it sit over night. Still not good. Then I tried CitriStrip. Whoa! BIG difference! It worked fast in one application. I did one side of the trailer, including 1/2 of the top, in one application. It stripped clean and came off with the washer...

Rivet Master

Views

3527

Comments

2
Posted 09-18-2011 at 02:06 PM by

Splitrock

(1976 31' Sovereign)

---

I had a prosperous last two weeks of August. The cabinets were made with a minimalist approach. Just face frames, doors, and attached boxes to hold drawers. I used aluminum tube to frame out the sink side with an aluminum angle attached to the wall for the counter top to attach to.

The kitchen now has 6 full depth drawers on KV full extension slides with the soft close feature. They have a stay closed catch built into the slide.

The...

Rivet Master

Views

3726

Comments

4
Posted 07-31-2011 at 04:27 PM by

Splitrock

(1976 31' Sovereign)

---

Cabinet ends, faceframes, shop

The four tall cabinet ends are done, the faceframes are done and sanded, and the fit up is finished on the street side.

The wood is yellow birch,

The frames were glued and screwed on a square up clamp table.

Cut to length on the old saw I've had since...

Rivet Master

Views

2428

Comments

4