We've been doing trips with our daughter in out 19' Flying Cloud since she was 5 months old. Most recently, we did a
5 week loop around the Southwest
when she was about 16 months and
8 weeks though the Pacific Northwest, Banff, Glacier, Yellowstone and the Grand Tetons
between 20 and 21 months. She loves the new scenery to explore everyday and honestly, we find being on the move with her sometimes easier than being at home.
A couple things we've found:
1) The floorplan of our 19' actually has more floor space for kids to play than some 25's or 27's. We have a big shag rug that covers pretty much the whole area so she can roll around and spread out her toys. Of course, in the 19', that space is also the floor of the kitchen, dining room, living room and office. We've recently upgraded to a 25' CCD which has even more floorspace in front of a permanent L-shaped couch. The takeaway? We've found floorspace to be key.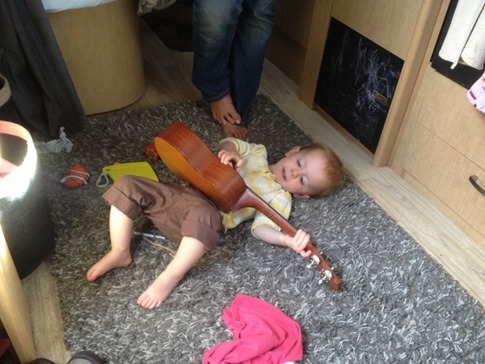 2) On a related note, that ample floorspace allows us to put her to sleep in a portacrib on our bed, close the partition and watch a movie or clean up after dinner. Then we can "float" the portacrib, sleeping baby and all, down onto the floor, close the partition again and have our bedroom to ourselves. Not sure that move would be possible down the hallway of the typical 25/27 or that there would be room to for the crib on the floor although there should be in the more open floorplan of our new 25' CCD. We're also thinking some bedrails and a curtain partition would make the L-shaped couch a great toddler bed when baby #2 comes along.
3) A fun mod is converting your fridge door to a magnetic chalkboard. I just removed the front panel of the fridge, flipped it around, glued a thin sheet of galvanized steel to it and painted it with chalkboard paint. It slides right back in and voila! We took the doors off the cabinet below ours and filled two baskets below with toys. And, as any parent knows, an accessible tupperware drawer can be better than any toy chest.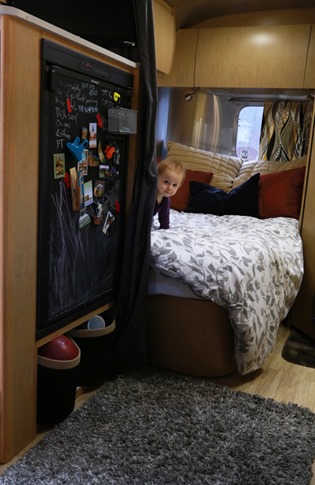 4) The shower works *perfectly" for a bath. Only about a foot deep. Some non-slip stickers on the floor keep them upright. Just remember to flick on the water heater as you arrive into camp.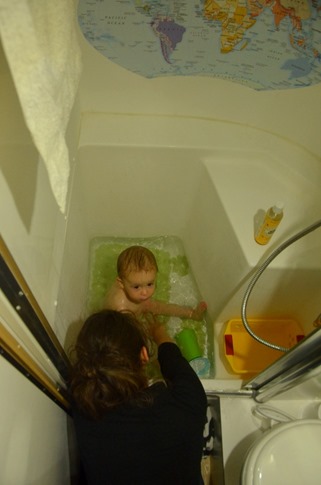 4a) A small baby pool is a hit in the summer months and doesn't take up any space in the trailer.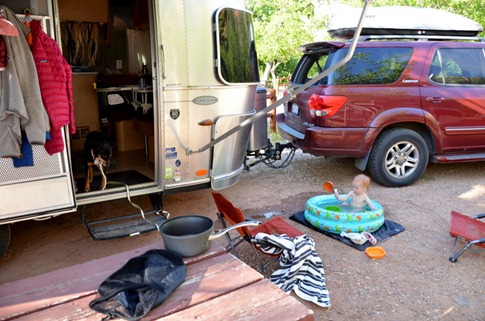 5) A clip on high chair is great on the dinette. Just make sure the leg is secure.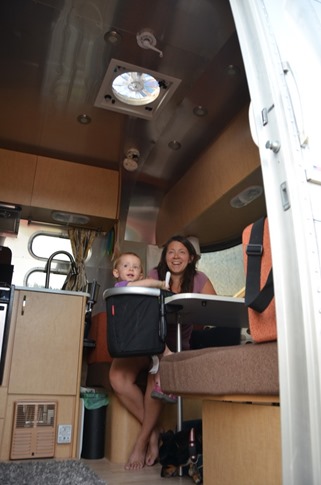 6) The back of our SUV is mostly filled with her "modes of transport" including a stroller, a bike seat that attaches to our bikes, a hiking backpack and - a new addition thanks to Craigslist while on the road - this push tricycle she can't wait to get on for the morning or evening campground loop walk.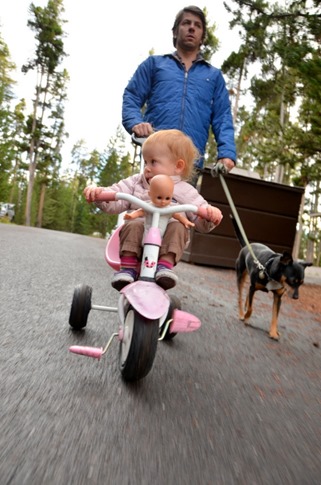 7) And finally, if you can't find something, look just outside the door. That screen door slider is a blast to toss things out of!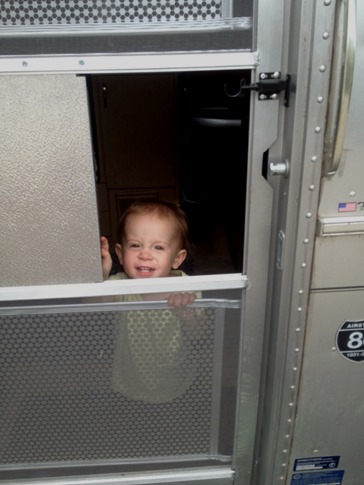 Have fun!
Dave and Ann