Hi.
Our 2008 25 FB SE has been our vacation home on many trips now.
My wife has noted that her sleeps are often interrupted by my attempting to grope my way to the bathroom in the middle of the night & the tight configuration of the front BR. On our last trip down the US West Coast while we were sitting enjoying the view, she casually let it slip that she wished that we had bought a twin bed configuration instead of the Queen.
I thought "Sure, why not?" I'll replace the carpet too... starting us on a 400+ hour project after we discovered major leaks in the aft part of the unit etc... Thanks to this forum, my search on 'new flooring' brought me to realize that we could have wet floors underneath the vinyl.
Anyways, with leaks fixed, new floor, new countertops, etc.it was time to tackle the bedroom conversion.
I did a few searches on 'Queen to Twin conversions' & welcomed any pics & descriptions I found for ideas, so thought it might be useful to post a few details of what we have done.
We started with this:
and ended up with this:
After the rest of the trailer was done (leaks fixed, flooring in, cabinets replaced etc.) it was time to tackle the bedroom:
First job; clean up the clutter...
There were a few issues that needed thought.
It didn't make sense to me to have the heating duct opening at the aft side of the bedroom. (I also thought running the Bathroom duct underneath the floor was a poor plan so attempted to rectify that during this conversion.)
I wanted to install an inverter which needed a home somewhere under a bed.
I also wanted us to try and keep as much storage under the beds as possible with access not limited by the doors coming down to the floor etc. Tambour doors made the most sense to me.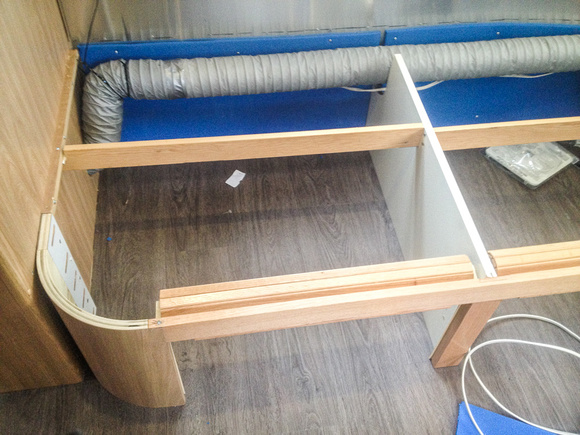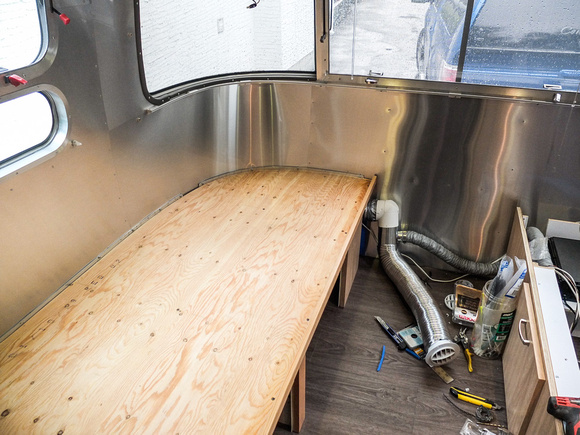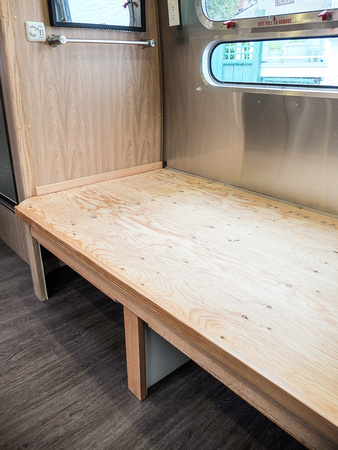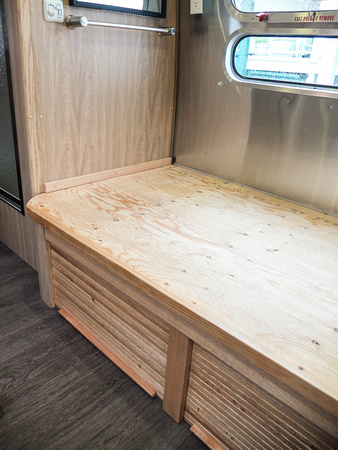 The Bedside table...made up of recycled drawers etc.:
I elected to add a second level. AC power &
12V
power underneath the upper deck: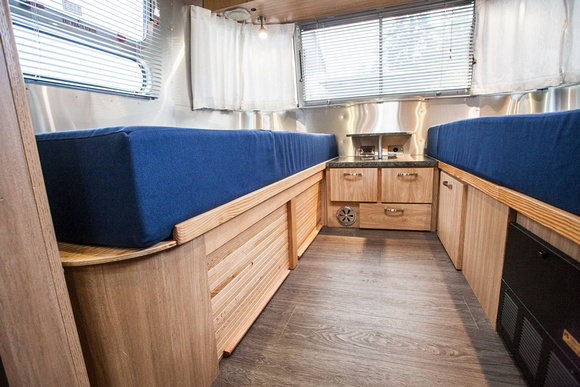 To reduce light leaking around the windows & to improve privacy, I built valances around the windows. Plywood covered with scraps from the mattress cover "denim":
Anyways...
We are happy with the new configuration.
We are sleeping better..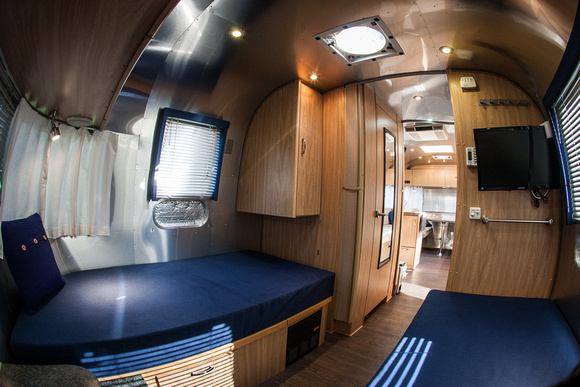 I hope this is helpful to anyone else contemplating a similar job.

-evan

__________________