I didn't read ALL of the posts here but thought I would add a few tidbits of my own. We purchased our 31' International (wife and I) about 5 months ago and decided to start with the outside restoring her since it was getting into good weather season. My blog is here with some details on the polish if interested:
http://www.airforums.com/forums/blog...7-bowmans.html
We used the drill motor/compound heads (5) and adapter and (although expensive) got a cyclo polisher from PerfectPolish.com. I also got F7, C and S Nuvite polishes to start. What I found was:
1. Everytime I finished with the F7 compounder stage and used C with the cyclo, I was making a step backwards in the polishing process. I stopped using C and made my life easier and the end result was the same. I seems that if you use the F7 and remove all the oxidation and pitting (you can tell when you get the area right after doing it a few times) the S polish only needs one coat. The C seemed to leave bigger swirls once the surface was smooth with F7.
2. The Zip Dee slats cannot be polished. I tried to no avail. I also tried to use Scotchbright on them to at least make them looked like brushed alum. but that didn't seem to make any difference so I washed them and stuck them back on. Same with the arms.
3. Polish-Mode Awning Setting - Before starting the process, I removed the streetside and front and rear awnings (to repair) but REALLY didn't want to remove the massive curbside awning since it was in great shape. Snooping around this site, I found that you can put your awning into "polish mode" by extending the top arms out one notch (like your putting it out but only one notch). Then roll it back up against the camper. It sits about 8 inches higher and allows for easy polishing where the awning used to sit in closed position and you won't get it dirty or torn (see picture below closely)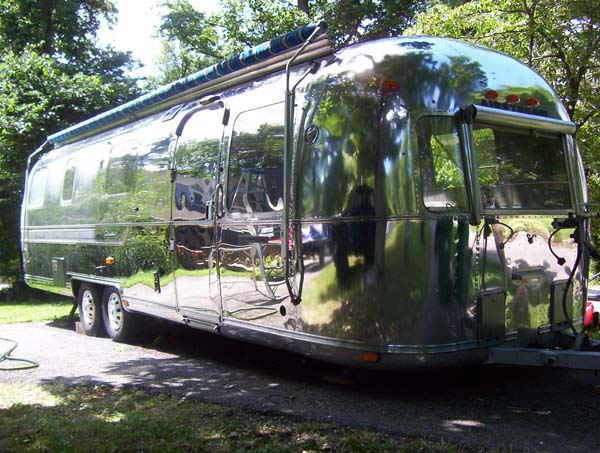 4. I didn't order enough F7... not even close. I ended up using 3 lbs. of F7 polish, no C and ordered 1 lb. of S but have barely dented it and I am about 75% done.
5. Wished I had known (or listened to people here) about the Removeall 220. I used a name brand from Lowe's. The stuff took everything off fine including the vinyl stripes (I wanted them off to repaint) but it also removes skin easier than clearcoat. VERY painful.