Quote:
Originally Posted by
casarodante
Dan, I am quite a novice at the LED market but the ones that I have appear to be SMD also. It seems the give away is the yellow color where the light emits. It appears to me the ones in the above picture are a bit smaller (yellow portion) and are using a magnifying lens to assist.

Thanks for the tip about the tape. Heat is definitely a problem, especially Central CA (cool today - 92).
SoyBoy
Yes the picture above( and now below) is a design where the light is magnified and is done in a way to have the light spread out and be more even. The thing about this one is the way it is mounted. It allows air under the LED. That is why this can be mounted directly to the lens. The main body of one LED is about twice the size of a SMD.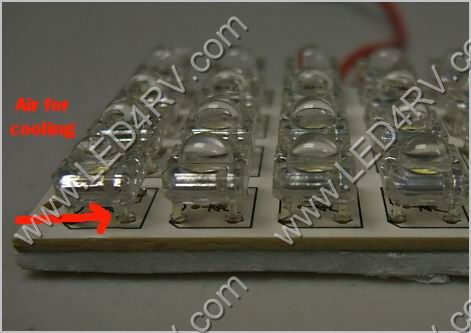 LED size does not matter here. The three big factors are; "will this light fit in the space you want it to go" and " how much power does it use", and "how much heat does it put out"?
The measurement of the lights is always important. We put that in all out pictures. If it is too large and won't fit, you can't use it.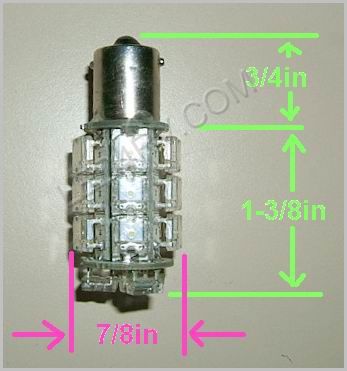 The next thing is the power that is used. LED's use less power but how much? If you want to know the watts then it is.
Amps x Volts = Watts.
To get the Amps you need an amp meter and hook up the light is series with the power and light.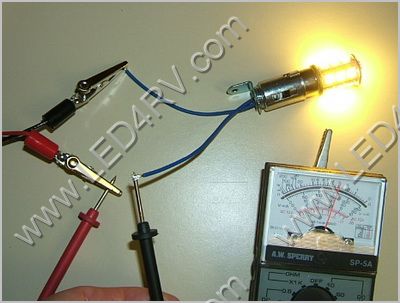 The reason this would be important is. Not all SMD are the same. Some are 2 chip and others are 3 chip. If you put a 7 to 9 volts to one of them you will see two little lights or 3 little lights. The 3 chips are brighter.
Yes SMD stands for "Surface Mount Device" like Wabbiteer stated and can be used in a bulb style.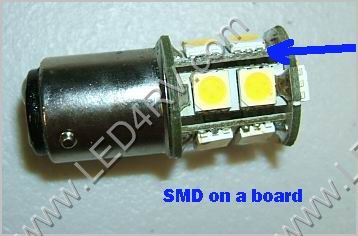 You see where the LED is mounted to the small board in this bulb style at the blue arrow.
The other factor is heat. If you are Dry Camping or not, then heat is a factor. If you are using your AC then the AC does not have to work as hard to keep you cool. If you are turning your AC on for the first time in the middle of a hot day and you have halogens then this is a BIG factor. LEDs are a lot cooler.
Of course, if your camping in the Winter or when it is cool, you may want the heat.
Dan