Hey!
I have searched this site a lot over the past few months reading lots of Airstream and Avion camper advice.
Just brought home a 1970 Overlander (27-ft) International yesterday. Found it on Craigslist in Raleigh and had to beat a bunch of other potential buyers to get to it quickly. It had been sitting in an older couple's backyard un-used for the past 4-6 years. Towing home went fine, other than the curb-side rear storage door blew off
and re-tracing my 45-minute drive I was not able to find it (see my posting in the classifieds looking for a replacement door).
Here are the pictures from the Craigslist ad. Will get more pics uploaded off my wife's camera. The small pics make it look in a lot better condition than it is.
The outside is really dirty with a few dents and rubs. But the inside is actually almost as good as the pics, with a few aging plastics, etc.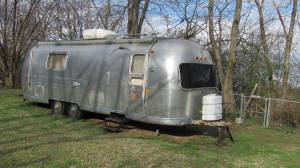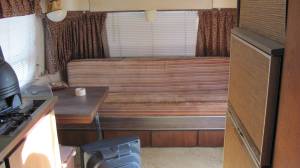 This camper is in good shape with just minor issues to work out, but we could take it camping today if we wanted to. It is very complete and original. The original interior is in good condition, which was a big selling point for me. Thanks for all the advice folks have posted on this forum about what to look for!
A side note - my very first camping trip was when I was 3-years-old with my grandmother, great-aunt, and great-uncle in his Airstream at Uwharrie National Forest in NC. I found out that the seller of my Airstream had primarily used it for camping at Uwharrie! I knew my uncle's was an Airstream, but couldn't remember what model until he emailed to say it was also an Ambassador. I will see him this weekend, so will try to find out exactly how similar my purchase is to the one he used to have - year model, options, etc. Too cool.
My family - I have been married 7 years and have a wonderful wife and two great daughters age 4 and 1-1/2. See my wife's blog for more info

The Nuss Haus

. We are members of Central NC 4x4 club (

CNC 4x4 Club

), which does several camping trips a year. My wife and I camped a lot before the kids, but have only gone a few times since my first daughter was born because it was always going to be too cold at night, or raining, etc. We have several friends with campers, so knew we wanted our own camper so we could get back to camping more. I have a pop-up and 2 truck campers in various states of dis-repair, that I have not had time to get usable for us. So...

Our plan - When we found out we were getting some tax money back this year, we decided to buy a camper in decent, usable condition. I know that I do not have time for a project right now (like a floor replacement or interior restoration), so we wanted something we could use as-is and fix the more manageable items as time allows. Our budget was $2000 for the purchase, which would leave us with some extra money for things like tires or a new appliance. We knew we would not get something perfect, but wanted something solid and relatively complete. I was scouring Craigslists in NC, VA, and SC (using

http://crazedlist.org

) for weeks, but every "traditional" (wood framed) camper I found in our price range had water damage, meaning major wood rot. Then we found a 1969 Avion nearby for $1500 that was advertized as "usable as is". Seeing it in person, it was actually a decent basis for a full-restoration, with too much missing/damaged interior to use as-is. More of a project than we wanted, so we passed on it. The next day I found a 1984 Wilderness wood-framed camper for $2000 that was very complete, came with WD hitch and sway control, and the seller claimed had no leaks. I went to see it with the intention of bringing it home, but I found major hidden leaks and rotted wood (whole front and rear walls), so passed on it too. We were getting discouraged. But as soon as I got home, my wife showed me this Airstream that had just popped up on Craigslist for $3k. I went to see it the next day, expecting major issues, but found that it needed only small things (well, smaller things than re-framing a rotted wood camper). I negotiated to $2800, and the rest, as they say, is history!

We are very excited! Our first camping trip is scheduled for the 2nd weekend in April, so I've got a lot on my list to get ready.

Thanks for a wonderful Airstream forum (that I will now be using very heavily)!

Richard

__________________