Greetings zlee!
I am not a coffee connoisseur, but a number of my friends are coffee aficionados so I do carry a means to make coffee in both of my coaches. While they may not be appropriate for the sophisticated coffee drinks, I have been told that they brew a good cup of coffee.
For my
1964
Overlander, I carry a Revere Ware Stovetop Percolator that I inherited from my aunt. It has been use by a member of my family for over 60 years, and travels well in my Airstream. The photo below is of one exactly like mine, but I borrowed it from the web: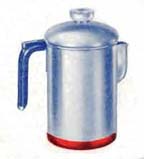 For my 1978 Minuet 6.0 Metre, I also carry a Revere Ware coffee maker, but it is a Stovetop Drip Coffee Maker. I didn't realize that Revere Ware made one of these Stovetop Drip Coffee Makers, but I ran across the one that I have in an antique store while traveling . . . I was able to grab it for only $12.00. Again the photo below is one that I borrowed from the web, but is identical to the one that I carry.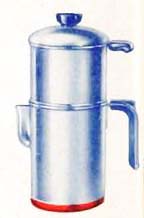 I have utilized both of these on the rangetop in my Airstream and Argosy with no problem . . . and have also utilized them on my LP grill when cooking on my Airstream's patio. I am afraid that more often than not, I utilize the bottom portion of the device to heat water for tea or hot chocolate as I am among the non-coffee drinking population.
I also carry coffee grinders in both of my coaches. One is a vintage unit that I purchased at an estate sale that I carry in my Overlander, and the other is a unit that I purchased new from
William Sonoma
to carry in my Argosy Minuet 6.0 Metre.
The photo below is of the vintage Hobart/Kitchen Aide electric coffee grinder that I carry in the Airstream. I chose this unit for the match to the aesthetics of the Airstream, and with ample Solar power from the Overlander's three panels, I haven't had an problems with its minimal electricity usage. It can be a little temperatmental to adjust, but once adjusted to your preferred grind it works flawlessly. The one pictured below is one that I borrowed from the web, but the one that I found is identical with the exception that the base is polished stainless steel.
The photo below is of the Hario
Skerton Ceramic Coffee Grinder
that I carry in the Minuet. I chose it because of its compact size and the fact that it is manual operation since my Minuet has only one battery so electricity is at a premium when camping without utilities.
I always try to be able to have coffee for my guests so a small bag of fresh roasted coffee beans is always found in my perishables food container that I transfer from home to trailer just prior to each trip.
Good luck with your investigation and research!
Kevin