Last week my air gauge was stuck at 50psi after the engine had been running for more than 5 minutes. I was concerned that I may need to replace my compressor.
I thought about things for a couple of days, then decided to take a look at the compressor to see if it had an air filter.
There is something that looks like a tiny little filter. I unscrewed the filter.
To see if it was plugged I blew through it, backwards. It seemed to allow air to pass. Then I put it back on and turned on the ignition. Within a minute I had added 10psi to the gauge.
I got to thinking and decided that the quick fix was probably not going to last. I could not find parts for the Gast compressor with my Google searches, so I tried taking the old filter apart. The cap came off without damage using a flat blade screwdriver. The filter is just felt washers with an oily feel, and they were quite dirty with black spots where the four holes in the cover were. I washed the felt washers and blotted them dry two days ago and let them dry until tonight.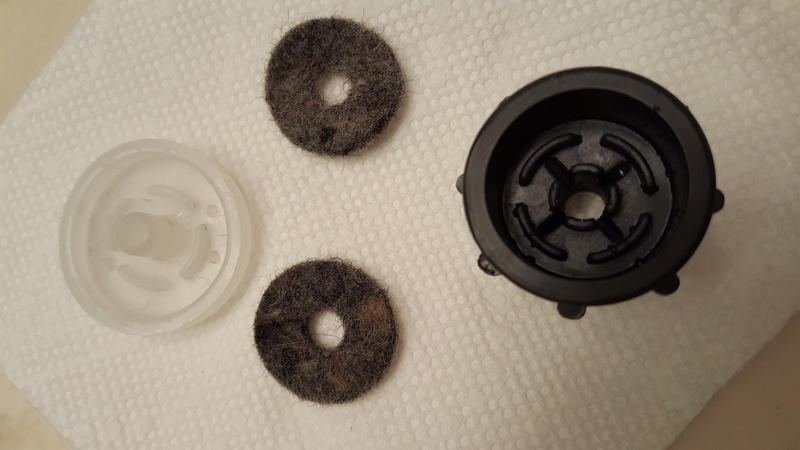 I decided to put a very light spray of K&N filter oil on one of the washers, then squeezed them together to transfer the oil between them. The oiled sides were facing each other when I reassembled.

Oddly there seems to be more back pressure when I blow through the filter now. I put the filter back on the compressor and gave it a try. It took a while with a lot of jumping of the needle, but the pressure did start to increase and after a few minutes run time the back bumper is now 1" higher than when I started. Maybe I should have left well enough alone, or not added the filter oil.

I'm camping this weekend so we'll see if the rear suspension is able to stay aired up on the road.

__________________