Yesterday, two incidents within minutes of each other made me realize that we need to start building a thread to address T1N Interstate hardening in a way that has only been done more casually (and less organized-ly) prior to now.
Hardening, or "bulletproofing" (as
Million Mile Sprinter
owner Joel Sell calls it) is the process by which failure-prone van parts (in our cases, both Sprinter- and Airstream-related) are systematically identified and replaced preemptively under controlled conditions, rather than in the form of on-road emergency responses, which can be ten++ times as expensive as well as schedule-destroying.
It sounds easy, but it's not. I have been working on it in earnest for several years now, and not only have I FAILED to accomplish it,
I AM NOW FALLING FARTHER BEHIND THE GOAL THAN I EVER HAD BEEN.
Joel has been developing a bulletproofing system that he can offer as a paid service - in other words, he takes your van and replaces X number of components preemptively, and theoretically, you should be in much better shape then, at much lower risk of uncontrolled break-downs.
But Joel has a wife and twelve children to support, and it's not necessarily fair to ask him to share that information (= his own carefully-curated free market advantage) with the rest of us - that Magical List That He Is Going To Execute to keep your T1N Sprinter actually operating (or at least to improve your odds significantly).
To kick off this thread, here are the two things that happened:
(1) Last night we finished replacing the Sprinter's window-lifting mechanisms with an aftermarket retrofit. As I mentioned on
that other thread
, I was aware that the cab windows falling out was a possibility. What I did NOT realize is that it's basically an inevitability - I would have done that replacement years ago if that had been clear from my research. And as it turned out, the window fell out (rather, in) during extreme weather conditions, such that it became a disabling break-down for me. I could not do a repair on the road - the best I could do at that point was tape up the whole side of the van and make a mad dash back home.
(2) Fifteen minutes after we finished bulletproofing those two cab windows last night, I logged onto Instagram and I was immediately presented with this atrocity (below).
Here's another T1N, NOT ONLY DISABLED BUT WITH ENGINE DAMAGED because of some crappy two-dollar part that I had never heard of despite active searching for all such sources of potential devastation during 5 full years of Sprinter ownership.
What the freak???!?!?!?
How is it possible that this kind of thing is still happening to any of us??
Last year, I went onto Sprinter Forum and hatched a thread in which I appealed to literally the entire world to enumerate all of the most likely T1N failure routes. And do you know what?? Those forum members never really laid a finger on the scope of the issue. That thread was called
Which preemptive replacements for a 12-year-old T1N?
It captured some good ideas, but it did not grow to approach any kind of a bulletproofing solution.
Some would say I'm nuts for even trying to build a bulletproofing database, but what is the alternative, exactly? More catastrophic failures, more horrendous expenses, more mad dashes back home from the road?
Here is last night's Instagram atrocity: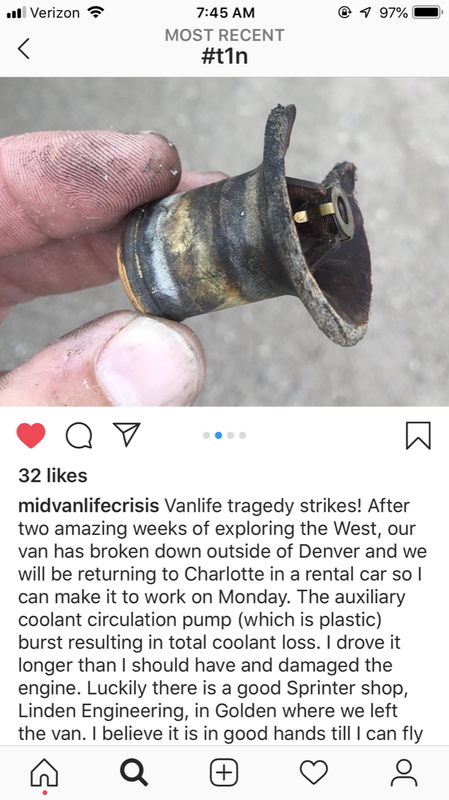 __________________