Thanks Greg
It is surprising how "life goes on" and that is why mine sat too. I considered using Marmoleum as well but I was out voted (happy wife...happy wife). I just looked at your posts and your flooring does look good.
The Cabinets consume allot of time with all of the details and trying to stay as original as possible and reusing the original framework where I can. Re-skinning the Cabinet Doors took a day for each side clamped in place to ensure that the Glue had time to cure before I took it off of the Table (I am using a solid core door for my work table). One of them needed some framework repairs but now that is behind me.
We have an LPG Heater near the door, it has been stored but will be installed later since it will be in the way for now.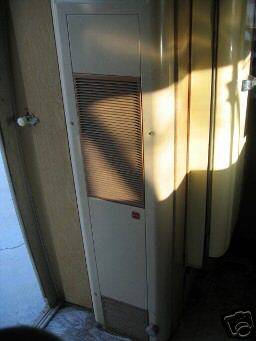 There is a Fiberglass Holding Tank under the Toilet. Since I am going to be using the original 12.5 Gallon Freshwater Tank I am going to stay with that. I will be starting the Plumbing soon so the rest of the decisions will be made then but I want to stay close to original but with usability in mind.
It will be fun to watch your progress!