Prep for painting inside
Posted 10-10-2009 at 09:33 PM by
Bowmans
Updated 03-29-2010 at 11:52 AM by
Bowmans
(Added link to finished painted blog entry)
---
We needed to finish some stuff inside before we could paint the interior walls.
It started with the fridge. The frame of the fridge had some rust spots so we wire brushed these down to metal and put black appliance paint on the frame and doors. We will put pine panels back into the doors while we do the cabinets.
Before: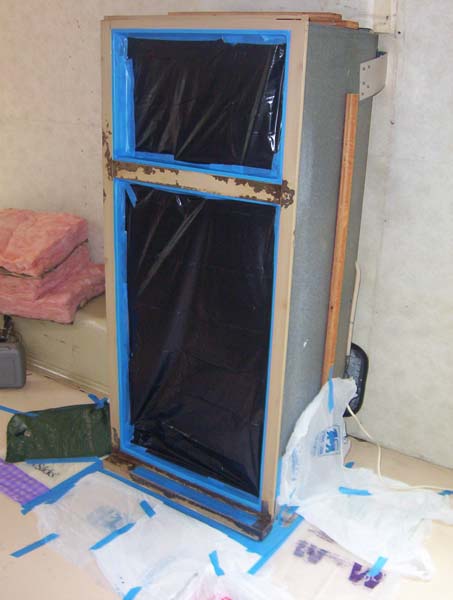 After: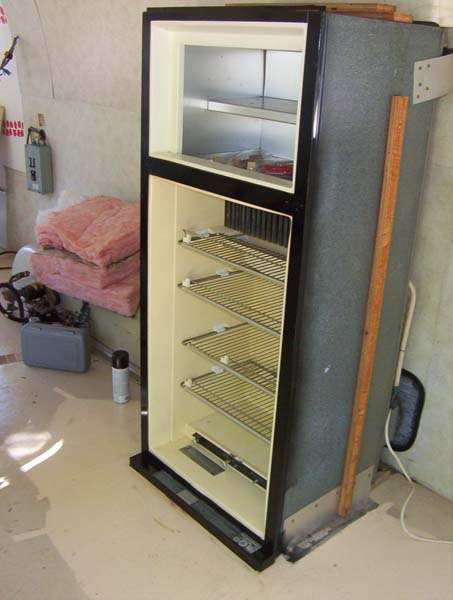 With the painted doors back on minus the panels: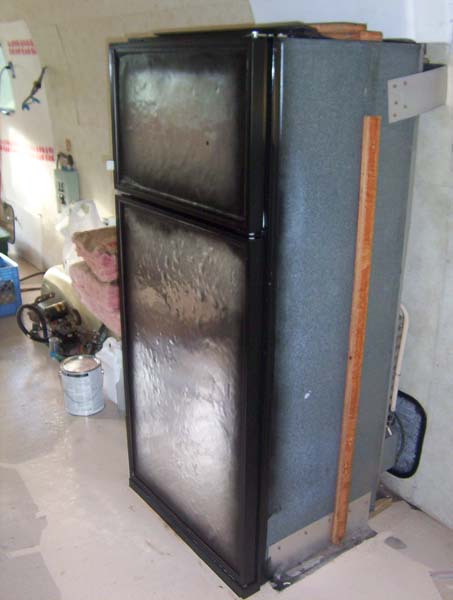 Next was the wall outlets. When I pulled a couple off, they didn't look all that safe under the plastic mounts so out they went. I got some shallow blue boxes and wired with household outlets and covers. I had to open the holes a little in the aluminum so the boxes fit ok and used rivets to hold them in. We also painted the DC outlets with white plastic rustoleum paint.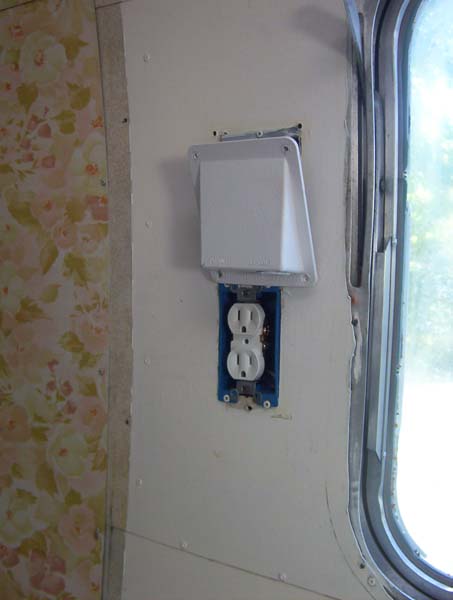 Next came what to do with the wing windows that were foggy and one that was leaking in between the panes. we decided to try and break them out like the vista view windows. They were safety glass so required a dremel and cutting blade to make an incision into the inside pane to break and since they are safety glass, they go of with a POP. Once all the little shards of glass are out, the same process for the vista views worked fine including the Can-Am gasket.
Window after POP: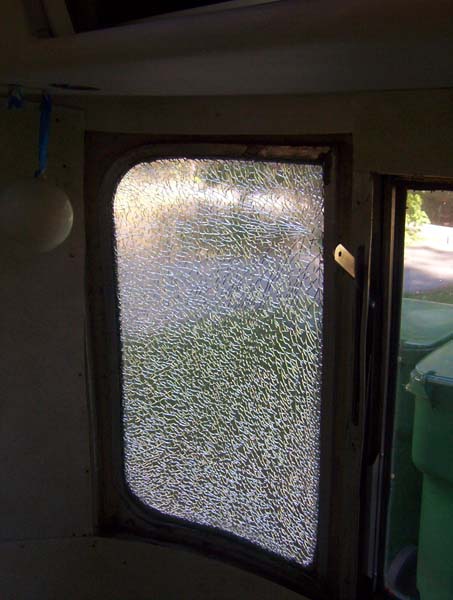 After (and much cleaner):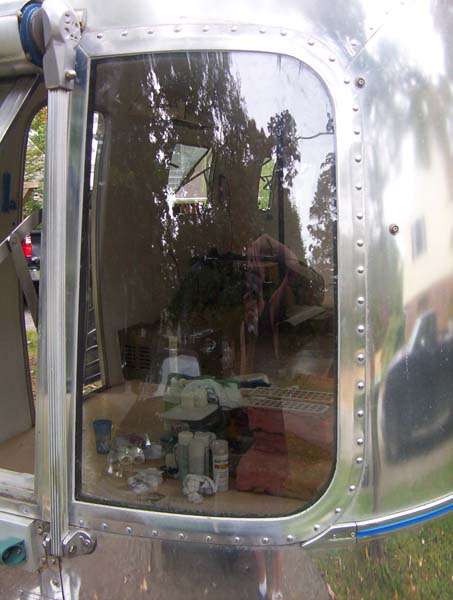 We did both of the wing windows. We then cleaned the interior walls again and sanded them all down. We also had to scrape the lower portion of the door (some sort of glue was on it but nothing glued to it?!?).
Here is the door with 1 coat of primer: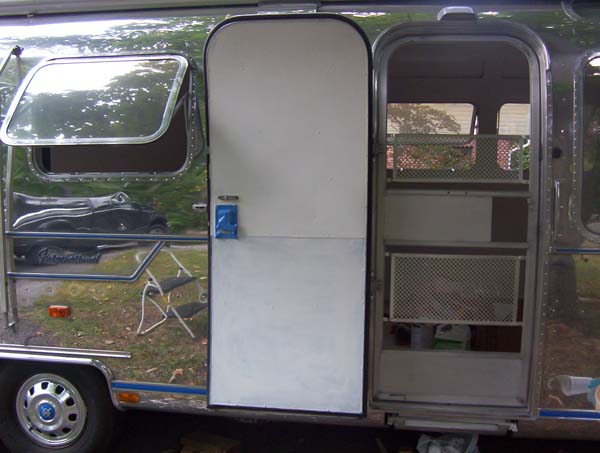 We then primed the endcap, AC cover (inside) and the wing window plastic trims with a plastic primer from SW and the walls with an akalyd primer. We decided to go with an alabaster color for the walls in an oil based paint. It is an off-white on the yellow/red warm side.
Here is a shot before starting: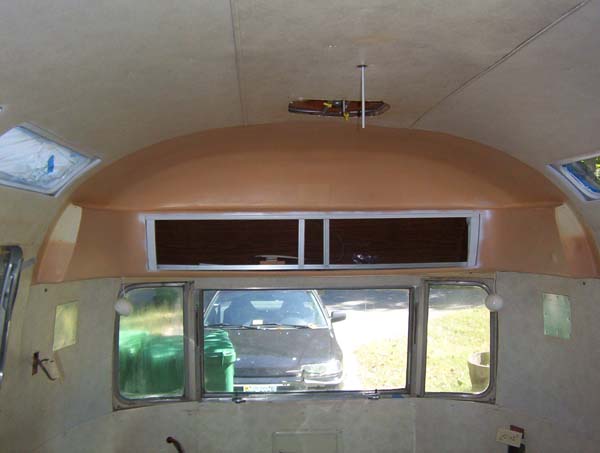 Shot of primer on (we put one more primer coat on endcap after this picture):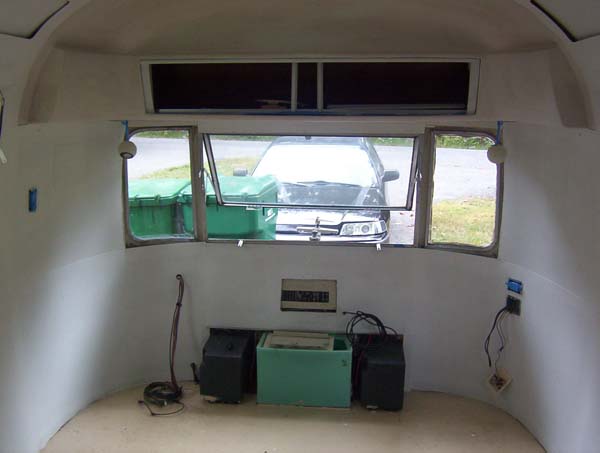 Here is a shot of where we finished tonight. The endcap got its first coat of paint and the walls have the trim painted but not finished: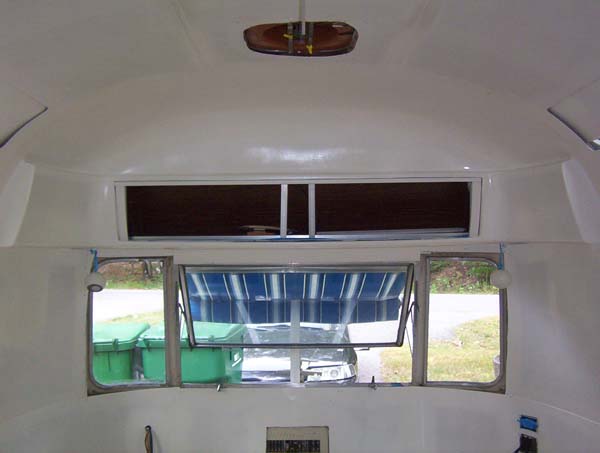 We hope to finish the painting next week, do a little work on the stove and then we should be ready to put the bathroom back together.
UPDATE: Click
HERE
to see finished photo of painting.
Comments